I've visited a few sites here in New Mexico that are familiar to me because of my previous visits… at least, familiar in their latitude, longitude, and geography. In a matter of a few years (less than than twelve), many of these site have been transformed (mostly) by man and seem quite foreign to my photographic-memories.
I think there is a tendency to remember places and events through visual windows of our creation. In my case it's through the photographs that I've made; for others it might be pure memory or remembering images that someone else made or placed into a scrapbook or shared on the web.
My memory of these places is connected first to the images I've made, and secondly to the events that surrounded their making. I made a few trips to New Mexico back in the mid-1990s with a group of students from Richland College (Dallas) as part of a class trip exploring infrared photography. I returned later to enlarge and expand that early work into a series I've entitled Terrible Beauty after being challenged by the Water in the West group's presentation at the 1999 SPE (Society for Photographic Education) conference in Tucson.
Those images served a purpose then (commenting on water usage in arid regions), but today they serve as a reminder that we live in a very ephemeral trajectory. Nothing is stable, but I wish that time weren't rushing by so fast as to make the more memorable places, people, and things unrecognizable within my own lifetime…. and certainly not within a mere decade. This is not the case with Truchas or Chimayo, New Mexico. Each place has undergone rapid change and in many cases (in my opinion) not always for the better, especially Chimayo. It's a point also made by John Nichols in his novel, The Milagro Beanfield War, that pits older established ways of life with new residents, alternative lifestyles, and an inevitable collision of cultures. What was true for Nichols (and most of Northern New Mexico) in the 1960s, seems equally true today.
Consider Truchas, once a small, quiet, and slightly derelict mountain village that I first photographed in 1995. Today Truchas has given way to an onslaught of art galleries enabled partly by the normal attrition process of aging home owners leaving the place or planet and the younger generation's migration towards better job prospects in nearby cities. Add to that an influx of artists seeking to recreate themselves in this New Mexican mountain air (@8400 ft) landscape. I discovered one the first of these artist through a blog, The High Road Artrist, by Jeane George Weigel. She came to Truchas on a rather spiritual journey back about  2006. I found at least a dozen galleries on the main street alone and others just outside of the town limits.
The owner of Truchas' general store commented that these new galleries contained art that "wasn't very good." While I don't usually seriously consider unsolicited art criticism, I did sense these newcomers' introduction hadn't been totally welcomed. Whether the art was good or not wasn't as important to me as to WHY there were now so many in a town that (as far as I remember) had none just a few years back.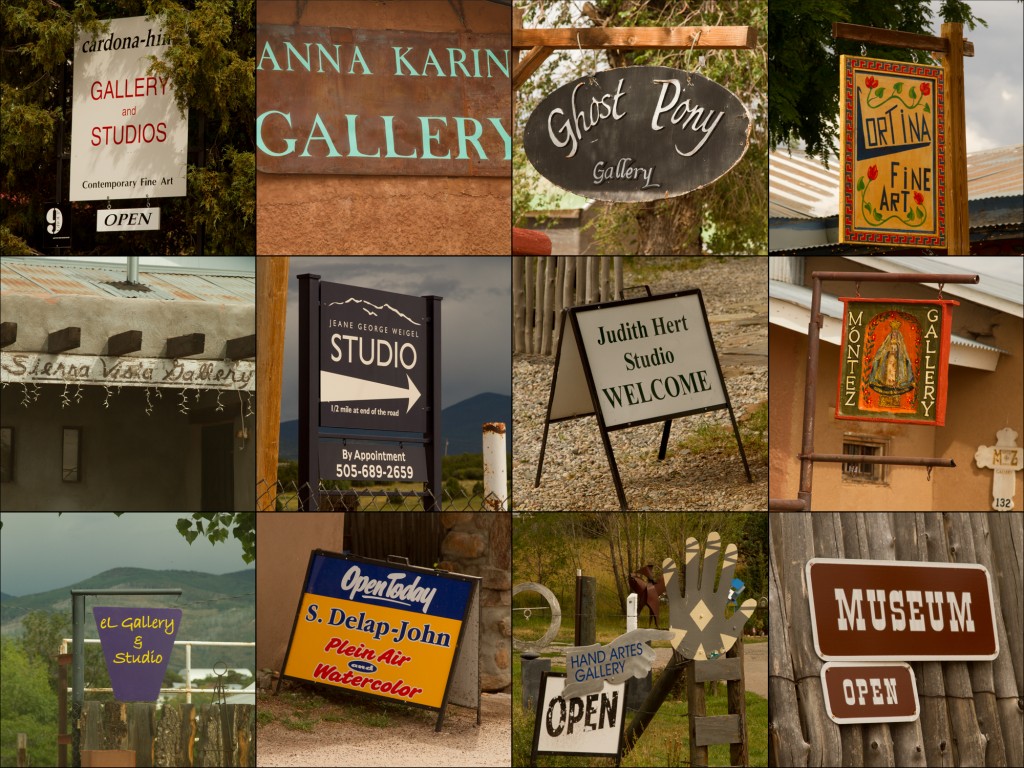 The galleries of Truchas, NM
He offered these were rich or well-off individuals who were retired and perhaps pursuing a dream or something else to do which was personally satisfying. I could certainly understand that last part, but again…. WHY Truchas? It is on the "high road" to Taos, but still rather isolated.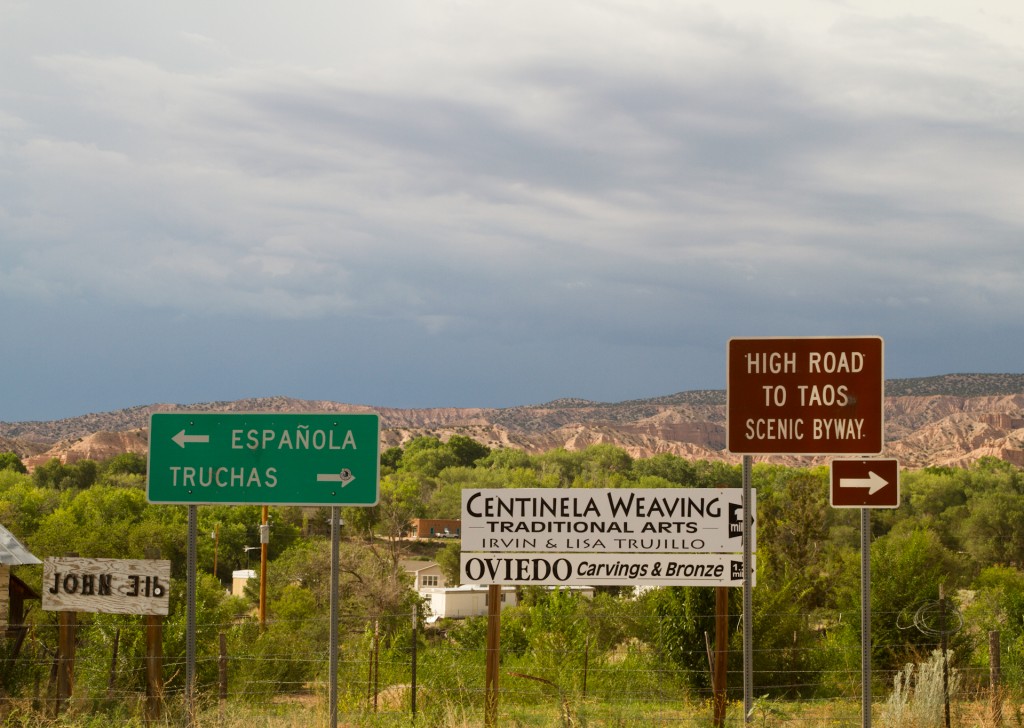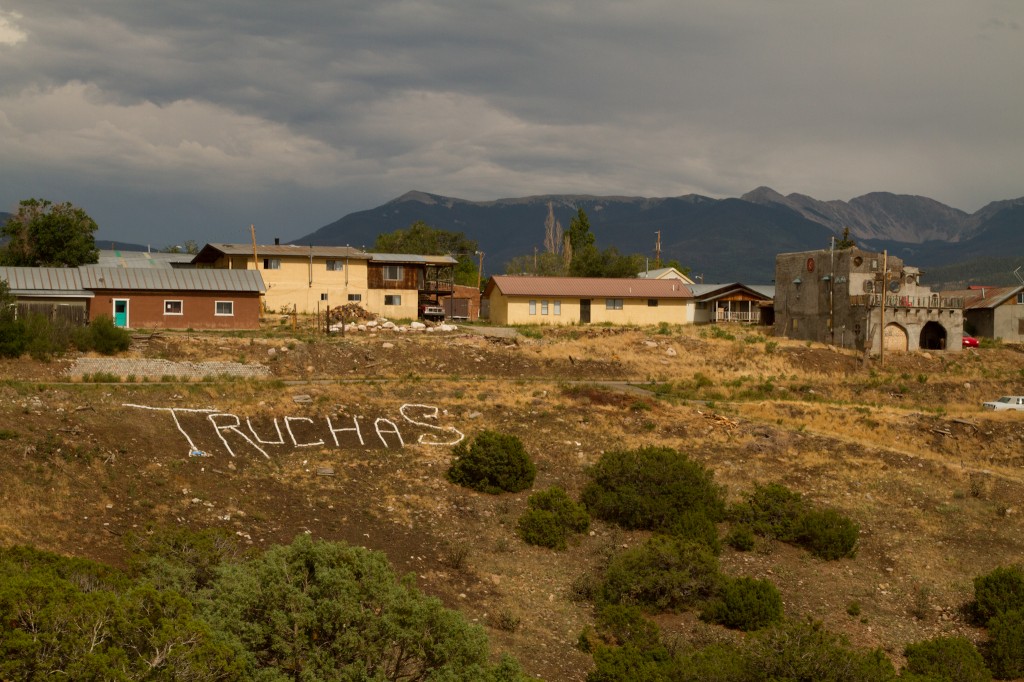 What isn't obvious is how much traffic comes this way during the 'high season" summer months or possible connections to the art establishments of Santa Fe (38 miles to the south) and Taos (40 miles to the north) or how the entire area seems to be moving towards a self-fulling goal of becoming an art region like no other in the United States.
Robert Redford first put Truchas in the spotlight by filming John Nichol's The Milagro Beanfield War in 1988. It's hard to imagine that alone was the catalyst for Truchas' popularity among artist, but it certainly isn't hard to see the effect on Santa Fe that Redford's presence and notoriety propelled. Santa Fe is routinely touted as a great place to live or visit… and I can distinctly remembering the press' flurry over Redford sightings in the plaza and elsewhere and subsequent articles about Santa Fe in Time Magazine and others. Who knows? I'm trying to contact Ms. Weigel and John Nichols for some insight. Yes, I get obsessed about these things. Somebody has to, right?
Up next, Chimayo and the 'branding' of a religious icon.